The Fred Report - Mid Week Update July 14, 2010
|
author/source:
Fred Meissner, CMT

The FRED Report – Financial Research, Education & Data
Mid Week Update
Volume 2, Issue 56
July 14, 2010
Download PDF Version here
Update of Market View
So far this options expiration week, the market has traded up as expected. The overall market remains somewhat overbought short-term, but is handling it well and look for the current move to continue.
Many pundits were looking at the 1090 area to provide resistance and we have cleared that area for the moment. We are much more concerned with the 1140 to 1150 area on the S&P 500 Index (SPX), which is where the rally failed the last time. We think that 1150 will be exceeded as well, although, as explained below, maybe not without effort.
Our only concern is the trading pattern we are seeing where the market opens up and then trades higher. This suggests a bit too much enthusiasm and is creating some minor gaps that need to be filled. As such, what we may do is test the 114 area on the SPY, fail, retrace to fill in the gap at 107, and then go through to the upside. We think SPY can challenge the 120 area on this move and note that there are many skeptics. We gave a talk last night, here in Atlanta, and none of the other professionals in attendance believed that this rally had legs.
One of our clients asked why we follow ETFs in the report and not indexes. The reason is that ETFs are actually traded, while indexes simply measure. This can become important in two areas – Gaps, and Volume. An examination of the SPX vs. the SPY as of yesterday's close illustrates the problem. Note how there is no gap on the SPX, while there is one on the SPY. This is because, on indexes, the open is often simply yesterday's close. We also like the fact that SPY volume is just that – volume on the SPY, while the volume figures for the SPX often make no sense. From an analytical perspective, ETFs provide a much clearer picture to a technician than an index does.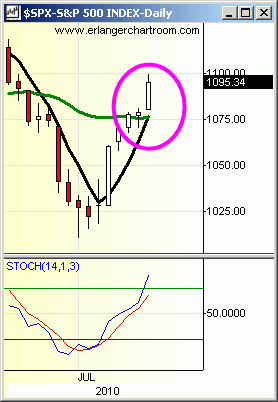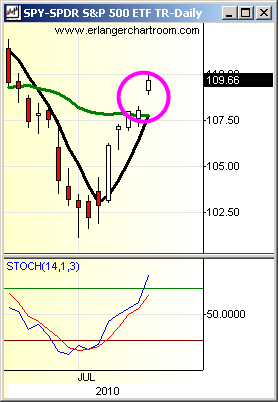 Other Points of Interest
We show a chart of the Dollar index. Note that yesterday was an outside day to the downside (a higher high, lower low, and negative close – the range was "OUTSIDE" the previous day's range). This is a negative configuration, and suggests that our objective of 82 may be too high and the downside could be even greater.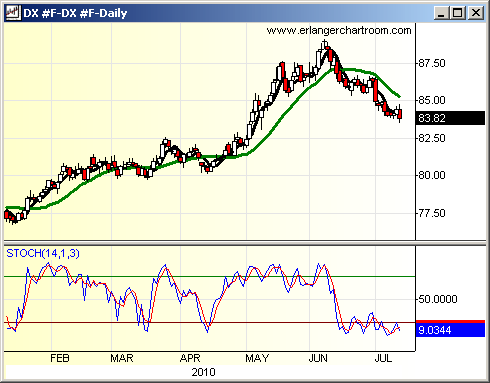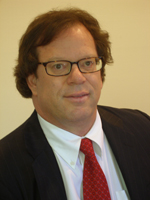 Who is Fred Meissner, CMT?
Listen here: